Poclain Italy, new plant under construction in Spilamberto
Construction of Poclain's new Italian plant has begun in Spilamberto. The new plant will bring together the Group's activities currently carried out at two sites, Gaggio and La Pioppa.
The Poclain site in Italy is one of the main beneficiaries, after the United States, of the Group's investments to improve our production sites around the world. Work has begun in Spilamberto, a site chosen for its proximity to the Gaggio plant, 15 km away, and to the  homes of our employees.

The new Poclain plant will be built on a 12,600 m2 site with a total area of 7,073 m2. The site will house the teams from the Gaggio plant and the La Pioppa warehouse. Production, Maintenance, Quality, New Product Design and Industrialization, HSE, Supply Chain, Sourcing and Manufacturing Engineer, Management, Finance and Human Resources will all benefit from modern premises. Employees will be divided into workshops and offices, as well as a break room, infirmary and changing rooms, in two connected buildings.
Energy Efficiency and Flow Management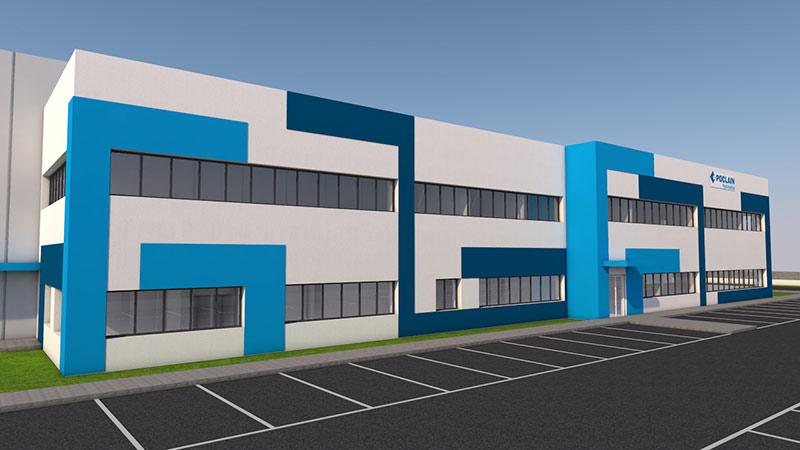 New space means energy efficiency. The mixed heating system for the shop floor will include underfloor heating supplemented by heat pumps. The roofs will be equipped with solar panels. 
Regarding our internal and external flow, we have made a real work of thought to optimize it, to reduce our lead times, to improve the quality for the total satisfaction of our customers.
The entire site is designed to optimize the flow of trucks in and out, the optimization of traffic around the buildings and the reception of transporters. The employee parking lot will be equipped with connections that will allow the installation of charging stations for electric vehicles.