How Poclain Yorkville Doubled Production
Poclain Yorville meets unprecedented 24 month market demand. We have invested $25 million CAPEX in our plant in Yorkville, Wisconsin over the last two years utilizing best manufacturing practises.
The team at Poclain serves clients from all over the world and has done so in North America since our first subsidiary opened in 1978. To this end, we have invested $25 million CAPEX in our plant in Yorkville, Wisconsin over the last two years. The investment came with an emphasis on logistics and deliveries in response to current market demands while utilizing best practice manufacturing to process our highly designed products.
The plant
Our primary facility in North America employs 280 workers in a facility that is 167,000 square feet after a recent expansion. The facility is designed for best-in-class manufacturing and innovation. Poclain is involved in all aspects of our products and services including the design, engineering, and project management for motors, pumps, valves, electronics, electromobility, and more. The experience and capability of our team includes off-road machinery such as skid steers, compact track loaders, directional drills, and combines. Our people and our facilities allow us to manage even the most complex projects for our customers - both domestic and global.
The investment
Poclain's investment focused on increasing our overall capacity. It became immensely important during the pandemic when logistics and supply chains were severely disrupted across entire industries. Poclain's investments included a building extension and overall upgrade to turn Poclain Yorkville into a state-of-the-art facility. Key use of our funds included:
Increasing inventory of parts for our facility and our sister plants worldwide
Improving working conditions for our valuable team, which included making the facility cleaner, environmentally friendly, with better lighting, and an overall great place to work
Additional positive air pressure to prevent dust, dirt, and other contaminants from affecting our work quality further securing our ISO 9001 certification
A paint line to meet our customers' demands for higher quality with a paint blend and quality that is consistent with our most demanding customer painting requirements
A new and improved assembly line for motors and pumps with advanced process control to deliver products that are below 200 ppm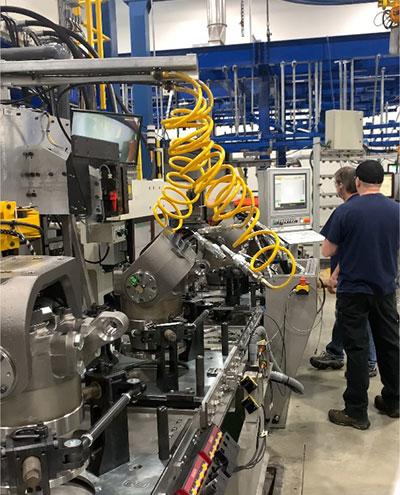 The results
 The overall goal remains to provide shorter lead times to better serve our customers by safely and effectively increasing capacity. Our most recent results were an increase in production of more than 50% in the last two years. From 2020 to 2022, we outperformed our competitors in terms of deliveries and maintaining competitive prices.
As a result, we are continuing to invest into our newly expanded building, as well hiring quality personnel, retaining our current talent, and promoting high performing individuals from within. Additionally, team members have received new training programs to ensure they can deliver the best products with the best lead times.
Moving forward
Future plans include adding a new complete pump line with associated test benches in addition to extra motor production capability. The plant has room for several new assembly lines as market demands increase, and we plan to invest another $2 million CAPEX for 2023 to ensure a robust supply of components given any uncertainties in the logistics market with an emphasis on continuing to exceed our customer's expectations.
Pierre Antoine Bataille
Chief Executive Officer
Poclain North America